3 Tips For Responding to Negative Feedback
This article was originally a post published by Cami Bird on LocalVox's Blog.  View the original post here.
One of the biggest concerns small businesses have when they start getting reviews online is that they have no control over them. Whether they are negative, positive, indifferent or flat-out incorrect, a small business owner can't just take them down.
With 79% of consumers trusting online reviews as much as personal recommendations, that concern is quite valid.
But, just because you cannot control what is being written doesn't mean you can't control how your business is perceived online.
Don't be afraid of a negative review; 68% of consumers trust reviews more when there are good and bad ones. People have differing opinions and rating scales. The fact of the matter is your business can never please 100% of your customers and people want to see that, otherwise your reviews seem fake.
Second, when you get a negative review, it's not the end of the story. The ball is now in your court and you have the opportunity to act.
Responding to Negative Reviews
The key to responding to negative reviews is really just responding. There are ways to effectively respond, but not responding means you aren't even trying to change your customer's mind. You've worked hard for your business. Don't let someone tarnish your integrity over something you can fix or reassess.
Additionally, you'll want to respond quickly and with emotions set aside. This moves into effective responses. While having an 'epic' response to a bad review can take your story viral, it doesn't do much for your actual customers.
3 Steps to Effective Review Responses
Breaking it down to the most basic parts of a response, these three steps keep things terse and on point with the customer's concern.
1. Acknowledge Their Pain
Start your response by acknowledging your reviewer is upset and apologize for their bad experience.
You want to keep this as short and to the point as possible as to not give your upset customer something else to rage about. Don't make excuses about their experience, just acknowledge it has happened and you regret it did.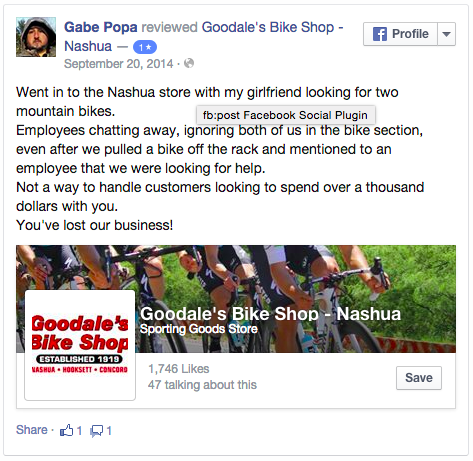 2. Take the Conversation Offline
Before writing anymore in your response, end it by asking them to discuss the matter more in private. Not only does this take the chance of further negativity away from the public eye, but it shows that you care about each customer's experience.
3. Resolve the Issue
Resolving the issue may not end in both parties walking away happy, but it does mean ending the conversation with an understanding.
After following the first two steps you have done more than what is expected to treat your customers well, even those that don't want to be customer's anymore.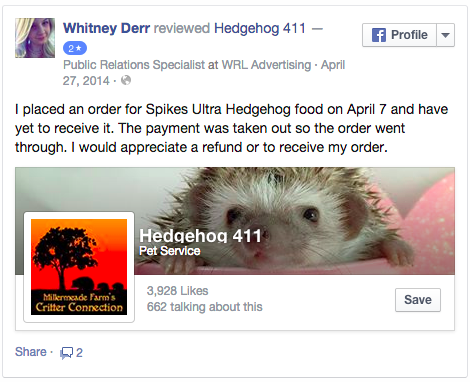 If they contact you privately, discuss their experience and possibly offer them a discount (if feasible, but shouldn't be the answer to every negative review) or ask for a second chance. Whether they take you up on the offer or not is irrelevant, the fact that you are addressing their concerns it what matters.
Facebook Issues
On Facebook and Google My Business you can respond to reviews, which is great for your search results and Page 'Like's, but, specifically on Facebook, sometimes you cannot actually see all the reviews.
Some people have certain privacy settings that allow only their Facebook friends to see what they have written, making it even more important to monitor and respond to the reviews you can on the network.
While Facebook will hopefully fix this issue soon, it would be wise to have the Contact Form app added to your Page for disgruntled customers to always be able to get in touch with you. Push for those who are not happy with their experience to contact you directly.
Don't let digital word of mouth hurt your company by not speaking out! By giving your customers a chance to review you on Google and Facebook you not only get feedback on your business, but have the ability to influence how your company is perceived by prospective customers.
Take back some control of your reviews, first by monitoring for them and second by responding to every negative review, as well as occasionally positive and moderate ones.