5 Ways to Celebrate Valentine's Day with Meaning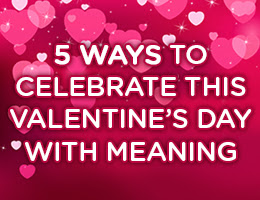 Valentine's Day is just around the corner. I'm still rounding up stray pine needles stuck in the rug and eating the few remaining arms and legs of broken gingerbread men. I really don't need a tempting box of fancy chocolates or a lavish prix fixe meal out on the town. How can I bring more meaning to a day that has become yet another opportunity to show affection and commitment through expensive presents and bouquets of flowers forced to bloom in the dead of winter?
You don't have to look far to figure that one out. People in our communities need help all year long. We feel good about ourselves during the holidays when we buy a gift for a needy child or serve a holiday meal at a shelter. Why stop there when you can volunteer or donate to a local nonprofit or charity?
According to last year's "Valentine's Day Consumer Intentions and Actions Survey" by the Retail Advertising and Marketing Association, the average annual Valentine's Day spending reached $19.7 billion. The amount the average American spends on Valentine's Day is $146.84. Think of how a local nonprofit might spend that money.
Here are five ways to involve nonprofits or volunteering to celebrate Valentine's Day with meaning:
1. Instead of going out to dinner, stay in and cook a special meal for your loved ones. Consider donating the money you saved to a community meal program.
Organic Soup Kitchen, Santa Barbara, Calif. "Of all the possibilities of non-profits I could be involved in I am proud to continue to support Organic Soup Kitchen and all their great work. What a wonderful job they do in the community, changing and improving lives daily using the power of food!"
Minnie's Food Pantry, Plano, Texas. "It's a joy every time I come to Minnie's. You feel the love from the moment you step into the door. Don't know where I would without them sometimes. I just love them all."
2. Rather than a buying a bouquet of flowers, give to a community garden or beautification project. Your flowers will droop in just a few days, but a donation will continue to give back as the months go by.
Rose Kennedy Greenway Conservancy, Boston. "The Greenway is a great place to volunteer because you get to see your impact firsthand. When I walk through the park with my friends, I can point to bushes I helped prune and flowers I planted—in the middle of downtown Boston. Pretty cool!"
Friends of the Urban Forest, San Francisco. "Friends of the Urban Forest are the reason for our beautiful Olive tree on our front sidewalk. They have helped plant many other trees in our neighborhood and throughout San Francisco. Not to mention the sidewalk gardens they create."
3. Instead of a romantic weekend away, a donation can help people find a caring place to sleep during the harsh winter nights.
Aurora Warms the Night, Aurora, Colo. "The men, women and children who walk through the door are in desperate need of shelter and warmth. They leave AWTN with a voucher for a nearby motel, a safe and warm night off the streets, a package of food of several meals, toiletries and a warm coat. The compassion, empathy, and warmth shown by the staff would restore anyone's faith in humanity."
Beverly's Birthdays, North Huntingdon, Pa. "Beverly's Birthday brings light and joy to troubled, impoverished, and homeless children. The children that are so often forgotten by their families and/or society are celebrated on their birthday. If even for just a moment, they can forget all of their worries and just be a kid."
4. Set a wonderful example for your kids, showing them ways to embrace others. Ask them to help you pick a need that your donation can fill.
Camp Sunshine at Sebago Lake, Casco, Maine. "I've volunteered at this amazing place the past two summers and based on my experience, I can easily say this is the greatest place in the world. People say Disney is the most magical place on earth, but spending just hours at Camp Sunshine, there is no question this place beats Disney."
Camp Starfish, Stow, Mass. "Camp Starfish saved our lives. It did more than just provide fun 24 hours a day. I had a sense of peace knowing that she was going to a camp that would understand her needs; she didn't do very well in other camps. My daughter found it very difficult to make friends at school, but she made friends at Camp Starfish and looked forward to seeing the kids and counselors the following summer."
5. Help someone in your own neighborhood. You may discover that a senior living nearby needs a lift to the doctor or help getting groceries.
Neighbor Ride, Columbia, Md. "We all know or are related to someone older who needs a ride for a doctor appointment, shopping, or a social visit (and we, too, will need such assistance someday). Neighbor Ride provides well over a thousand rides each month, free of charge to those who cannot afford it. This is community and volunteer service at its best."
Drivers for Survivors, Fremont, Calif. "I have found the Drivers for Survivors team to be phenomenal! Both the office staff and drivers are so personable, kind, thoughtful, and generous with their time. Without having a car to go to all of my doctor visits and tests, it would be extremely costly for me to go to my appointments."
For more inspiration, check out GreatNonprofit's top-rated organizations.
Big thanks to Kathryn Maclaury for her time and contribution to the original version of this article.