Celebrate the Spirit of Arbor Day All Year Round
The last Friday in April commemorates Arbor Day, and people are encouraged to celebrate the holiday by planting a tree. Sound like a lot of work? It can be, but if you are on a mission to beautify your neighborhood and clean the air you breathe, there are organizations out there that can help you do just that. Here are a few of them:
San Francisco, Calif.
Friends of the Urban Forest promotes a larger, healthier urban forest, as part of the urban ecosystem, through community plantings, maintenance, education, and advocacy.
"I lived in San Francisco for 12 years (1996–2008), in the Outer Richmond district out near the ocean, which is relatively barren of trees. I decided to do personally do something about this lack of trees; get involved to feel better than frustrated, sad, and powerless about the lack of greenery around my apartment and neighborhood.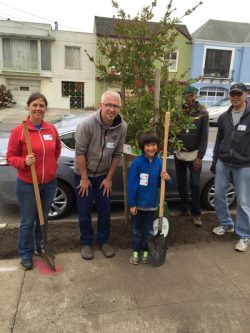 "I'd heard about FUF, saw their signs on newly planted street trees, and called them up. In short, I ended up taking the leap in as a volunteer planting manager in my neighborhood. To be honest, it was more work than I thought it would be—but completely worth it. As the saying goes, you get out of something what you put into it. For instance, in going door-to-door to ask who'd be willing to join my/our local tree-planting campaign by putting one in front of their home (having them ask their landlord to allow it, as mine did), I met dozens of fellow tree and nature lovers!
"I also learned that even people who don't love trees like I do can be convinced because their PROPERTY'S VALUE INCREASES by having trees out front to provide shade, sound-deadening tree canopies, and trees' aesthetic beauty.
"I've since moved out of the city, but still have a great appreciation and respect for this little organization that has planted so many thousands of street trees, adding so much life and quiet and clean air to SF—and building communities of nature-loving friends to get out there and actively demonstrate the value of trees—by planting them.
"More trees, please! Thank you, Friends of the Urban Forest."
San Jose, Calif.
Our City Forest's mission is to cultivate a green and healthy San Jose metropolis by engaging community members in the appreciation, protection, growth, and maintenance of our urban ecosystem, especially our urban forest.
"I am a trained Tree Amigo volunteer with Our City Forest. Since December 2010, I have participated in their weekly tree plantings and also worked at their two existing tree banks. On an interpersonal level, I have had such overwhelmingly positive experiences with OCF staff, AmeriCorps members, other Tree Amigos, and general volunteers. It is truly a team and community effort in which everyone works, sweats, and laughs together. Experience is not necessary—just enthusiasm, and the volunteers never fail to provide that in spades. The tree plantings and other events are organized and can accommodate almost all ages groups. It is not an understatement to say that Saturday morning plantings are one of the highlights of my week. OCF has been and will continue to be an invaluable community resource and a wonderful opportunity for all folks, young and old, to learn about trees and their importance to our urban forest."
Portland, Ore.
Friends of Trees inspires community stewardship of our urban forest by bringing people in the Portland-Vancouver area together to plant and care for city trees and urban natural areas. Since its founding in 1989, the organization has planted more than 600,000 trees in Oregon and Southwest Washington.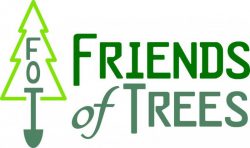 "I started volunteering for Friends of Trees around 15 years ago, but I have had such a positive experience that I keep coming back every year! They are always well organized, positive and dedicated to increasing the tree canopy in the greater Portland metropolitan region. They are constantly challenging themselves to improve their processes and they also work hard to connect with all of the communities in the region. Thanks to Friends of Trees, the Portland/Vancouver area is gaining tree cover instead of losing it! I will be back for as long as they keep it going!"
To learn more about these and other organizations working to make our communities a greener—and healthier­—place to live, check out GreatNonprofits.