The Importance of Third Party Endorsement in the Nonprofit Sector

(Research from the Software Advice)
It's been true in the for-profit sector that third party reviews and seals do make a difference.  Tim Ash and many professionals in the online space have spoken about the importance of using third party endorsements as a way to build online trust (see his article on ClickZ). Well, a slice of that information is brought forward by Software Advice, a company that provides research and reviews of donor management systems.  They recently published an article on the importance for charities to display seals on their websites and printed materials to show donors that they responsibly manage funds. 
Below are excerpts from that research.  A full article can be found here.
Ratings Seals Increase Trust and Donations
Overall, Software Advice's survey data shows that the presence of a ratings seal on a charity's website can positively influence a prospective donor's decision to give. Therefore, working to earn a seal of approval can be advantageous—especially for lesser-known charities that need to earn the trust of new donors. This research is the result of a two-day online survey of 3,861 responses from randomly selected charitable donors. To see the full study results and views, read the Software Advice report here.
Donors Look for Ratings Seals on Charity Websites
Most prospective donors take notice of ratings seals on charity websites. Since over half claim they're proactive in doing so, this suggests that it's good practice for a charity to display third-party ratings seals to show donors that their organization abides by certain standards.
Donor Likelihood to Check Website for Ratings Seals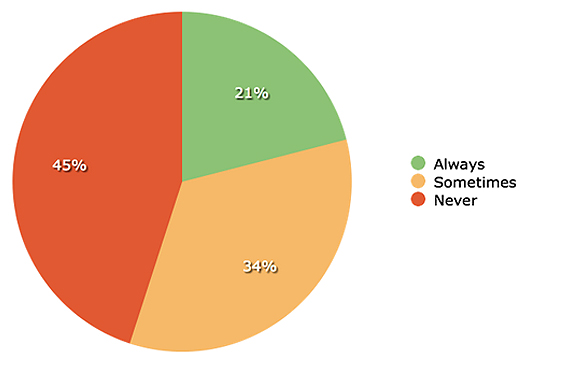 Displaying a Seal Positively Impacts Giving Decisions
Software Advice also asked respondents how much the display of a ratings seal on a charity website would impact their decision to donate to that charity.  A third said the seal would greatly impact giving decisions and over 50% said moderately or greatly.  Why?  Likely because the prominence of  a seal shows third-party verification of a charity's commitment to transparency and the responsible use of funds—and this could increase a person's likelihood to donate. Ratings seals could also be helpful for small charities that lack brand-name recognition, to assure prospective donors that their donation will be used wisely.
Likelihood the Presence of a Ratings Seal Will Increase Giving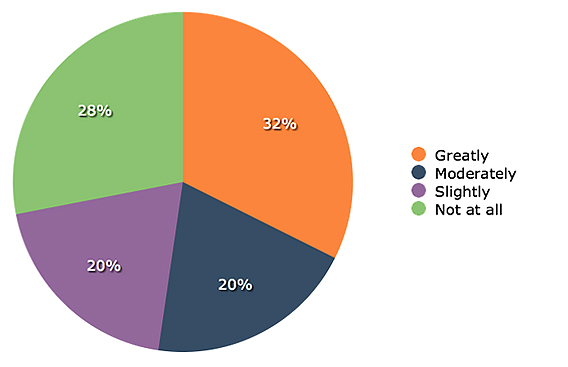 Lack of Seal Significantly Decreases Likelihood of Giving
Interestingly, more survey participants said the lack of a seal impacts giving — to the tune of 66%.  Compare that to the 55 percent of respondents proactively looking for seals or 52% saying the presence of a seal would "greatly" or "moderately" increase their likelihood to give.  This may point to the importance of transparency in the nonprofit. But either way, the data indicates that it's better to have a ratings seal than not.
Likelihood the Lack of a Ratings Seal Will Decrease Giving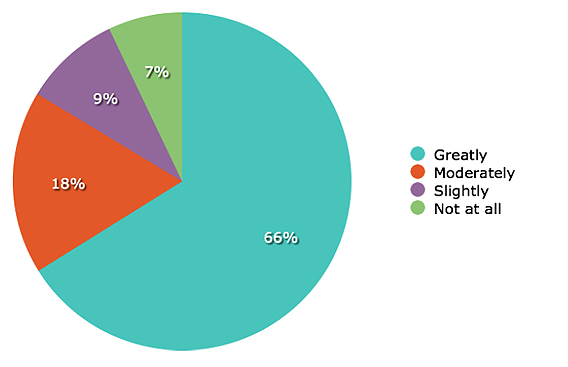 Which Rating Seals Matter?
According to survey respondents, the BBB Wise Giving Alliance seal is, upon first impression, most likely to influence a person's decision to donate. The BBB seal received the highest rating of five stars, while the Great Nonprofits and Independent Charities of America seals tied for second, with 3.75 stars each.  The chart below shows the results.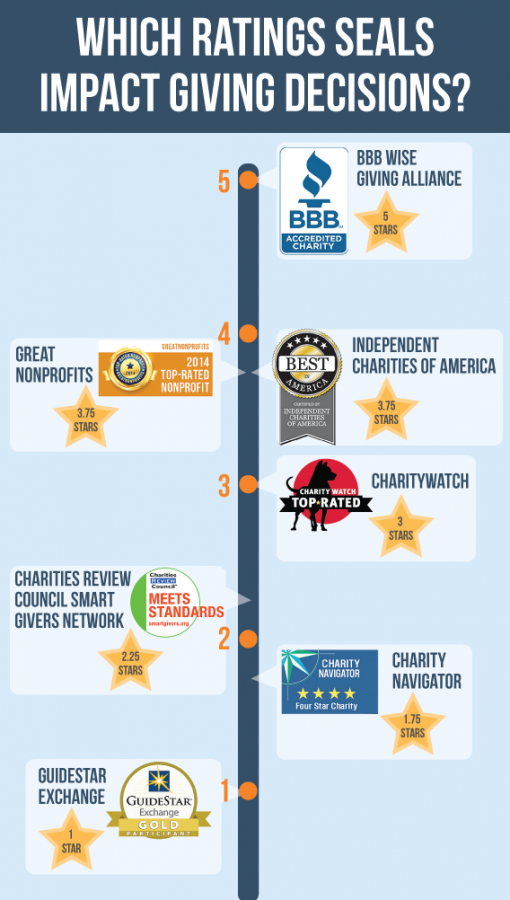 *Infographic created by Software Advice.
How to get a GreatNonprofits Seal?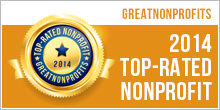 The GreatNonprofits service is free.  And, there are several badge options in different colors that you can use on your website.  Click here for information on how to get the badge and use the badge to invite reviews.  We also encourage users to display and collect reviews on their website, in email and social media.  Using third-party reviews is a great way to give users a sense of who you are and the impact you make.  Read a recent article by Beth Kanter for tips on how to use quotes and reviews in your content strategy.  Lastly, GreatNonprofits offers a Top-Rated badge to those nonprofits who are voted by their community. Nonprofits must receive 10 or more positive reviews (over 3.5 stars) and maintain that average during the campaign period. To learn more about how to get started with the GreatNonprofits top rated awards, click here.
But no matter what seal you use, you should consider the use of a seal on your website or marketing materials. Especially with the giving season fast approaching.
---
About Software Advice
Software Advice helps buyers choose the right software. As a trusted resource, their website offers detailed reviews, comparisons and research to assist organizations in finding products that best fit their current and future needs.