Drivers for Survivors: An Interview with Sherry Higgs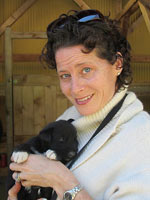 Drivers for Survivors is a Fremont, Calif.-based nonprofit that provides rides to medical appointments for people dealing with cancer. They serve patients of all genders fighting all forms of cancer and have given more than 9,600 rides to date. Drivers for Survivors currently operates in the East Bay area of the San Francisco Bay, offering rides to residents of Fremont, Newark, and Union City. In addition to offering transportation for patients who need to get to their doctor's appointments, Drivers for Survivors emphasizes an element of companionship in its programming that helps to counteract the emotional toll of treatment.
There are more than

100 different types of cancer,

and they can affect any part of the body, according to the

World Health Organization

.

An estimated

1,685,210 new cases

of cancer will be diagnosed this year in the U.S., according to the

National Cancer Institute

(NCI).

Roughly

36.9% of the population

will be diagnosed with cancer at some point in their lifetime, according to the NCI.

Inflammatory breast cancer accounts for only

1–5% of all breast cancer

diagnoses, tends to be

diagnosed in younger patients,

and

often develops quickly

and

spreads aggressively

, according to

Cancer.gov

.
Sherry Higgs started Drivers for Survivors in 2012, after battling inflammatory breast cancer, one of the rarest and most aggressive forms of breast cancer. Since the organization's humble beginnings—Higgs had never worked in the nonprofit sector before, and she built the charity from the ground up—Drivers for Survivors has helped 258 patients get to their medical appointments and now oversees 134 volunteer driver-companions who serve 228 active clients. Higgs was kind enough to sit down with us and answer some questions.

GreatNonprofits: Can you talk a little bit about your own experience with cancer?
Sherry Higgs: During the time I got sick, I saw a lot—experienced a lot—and I was devastated. [The diagnosis] put me in a tailspin. I was in shock. Untreated, I was told I had six months to live, and I already had a lot going on in my life. When I began treatment, I wasn't in a situation where I had a lot of family here, so it was a little bit tricky. I had some people help me, but there were certain appointments I couldn't go to as fluidly. Everybody's so busy with their lives, and when you go through something like this, you're at the hospital or the doctor's office constantly. That's your life. That's the new you.
GN: Is that what inspired you to start this nonprofit?
SH: Yes. Well, throughout the process, I would be sitting in the chemo rooms, and I'd be around people, some much older than I was, and I saw them experiencing a little bit of isolation. An example of that would be somebody would pick up a magazine, flip through it, put it down, and then they'd pick it up again. It's stressful. I'm watching all these things, and how some of these people seem so lonely. Sometimes they don't have anybody sitting next to them to talk to them. And you're about to undergo chemo, and you're by yourself—it just didn't seem right. So I inserted myself into the community, met with about 400 people, and slowly started to realize that everyone had a story and substantiated the need. The conversations alone demonstrated that cancer touches everybody's life in some way.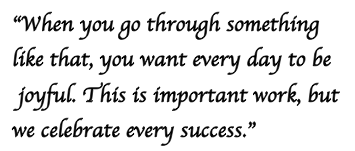 GN: What do you want people to know about Drivers for Survivors?
SH: That we are a heart-driven organization. We understand the importance of having someone in your life who's been through treatment and who knows firsthand about offering hope . . . that you want the people around you to understand. . . . There was a woman I was close with who was going through treatment, one of our clients, and it turns out that she would come back from treatment each day and take care of her husband who also has cancer. So you really never know what's going on with people. The majority of our clients are the underserved and seniored. Everyone is welcome to use our service if ambulatory and in the service area. You're going through cancer, and you're traumatized a lot of the time. Just having somebody there and not having to deal with it by yourself gives a sense of hope to the point of feeling like "Hey, I can do this."
Drivers for Survivors is always looking for more volunteer-companion drivers in Fremont, Newark, and Union City, Calif., as well as corporate sponsorships and people who are willing to donate specialized skills such as grant writing. If you're interested in getting involved, check out their website or browse our Top-Rated Cancer Nonprofits and Top-Rated Breast Cancer Nonprofits for an amazing organization near you. And consider sharing this page to raise awareness about inflammatory breast cancer and the amazing work being done by Drivers for Survivors!