Get The Most Out of #GivingTuesday
#GivingTuesday is the brainchild of the 92nd Street Y, a nonprofits cultural and community center in New York. The idea is to inspire giving and help charities nation-wide.  How? By creating a daylong national effort to help charities raise money online during the holiday shopping season – and do so right on the heals of Cyber Monday and Black Friday.  This is a big deal for nonprofits as last year alone the movement drew donations to about 2,600 nonprofits.
GreatNonprofits & #GivingTuesday
Because GreatNonprofits is a peer-to-peer review site for nonprofits (think Yelp) we're contributing to the cause by compiling a comprehensive list of it's top-rated nonprofits throughout the years (dating back to 2009).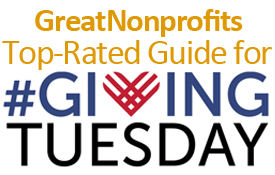 These are top-rated nonprofits that maintained 10 or more positive (4 or 5 star) reviews during the year of the campaign.  This list will be posted on the GreatNonprofits website so that volunteers and donors can uncover all the great nonprofits and their stories of impact. This list will be updated in early November with the 2013 Top-Rated nonprofits shortly after our 2013 Top Rated Awards program ends.  In addition to posting this list, GreatNonprofits will send regular feeds covering 31 issues for 31 days leading up to #GivingTuesday on December 3, 2013. We're also providing a free marketing and social media kit to help GreatNonprofit new and existing users to get the most out of the day. Get the free guide here:  http://www.slideshare.net/Greatnonprofits/greatnonprofits-giving-tuesday-social-media-toolkitfinal
How can you get involved?
There are lots of ways to get involved. In this blog we've highlighted a few general ways you can get involved along with how to use GreatNonprofits to amplify your message.  For more information visit givingtuesday.org or check out the Knight Foundation Giving Tuesday Playbook.  To get you started, here are some ideas:
Set your objectives for the day.
Ask a board member to put up a matching grant.
Encourage donors and volunteers to share that they plan to give back to your organization on their social network.
Make sure your site is ready for the day: with donation platforms; even add a personalized GreatNonprofits badge to proudly display your reviews and gather more (see your profile page to get a personalized badge; the below guide also had instructions)
Tell your story.  Reach out to local press, volunteers and donors, but be sure to leverage the GreatNonprofits free platform
Take Advantage of GreatNonprofits
GreatNonprofits, the largest Nonprofit review site of it's kind, offers a a free platform that helps inform and inspire supporters while allowing nonprofits to easily gather feedback and stories of impact.   The nonprofit profile is free, so the best thing to do is to get started by claiming your profile.
New to GreatNonprofits?  First, make sure you claim your profile.  GreatNonprofits already hosts free pages for thousands of nonprofits in the nation. Chances are you already have a profile started and just need to claim it. To claim your profile, simply search for your nonprofit name; and when you find it, click the "Staff: Claim Org" button.  If the organization is already claimed the button will read "Edit Org Profile."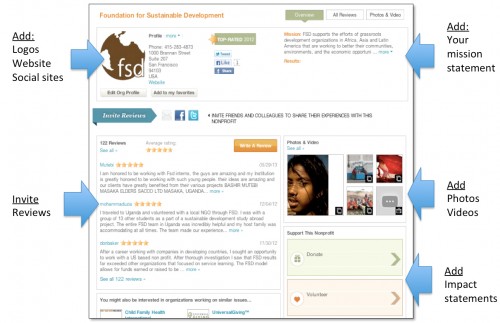 Once you claim your profile, make the most of your free profile by adding your logo, a link to your website, and any social media outlets like Facebook and Twitter.  Add photos and vides to showcase your impact.  You'll also want to complete a few statements of impact to showcase the difference you make.  For example, you can share "How many people you served," "What a donation of $25 up to $5,000 could pay for," "What volunteer hours can bring to the table."  Once you've done this, make sure to add a link to your donation platform.
Then, start writing reviews.  Every review that is written on our site is syndicated to GuideStar and other third party platforms so you can really get the world out about the impact your organization is making.
Already using Greatnonprofits? Then explore our Annual Top-Rated Awards (ends 10-31-13).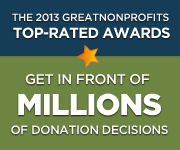 Nonprofits who maintain 10 or more positive (4 or 5 star reviews) are placed on the GreatNonprofits Top Rated leaderboard, are announced each month from April 1st to October 31st, get a 2013 Top-Rated nonprofit badge and will be promoted to GreatNonprofits media partners–including our sponsor, the Huffington Post. We'll also add the 2013 winners to the #GivingTuesday Interactive Giving Guide.  To get involved, first, check here or on your profile page to see if you're top-rated (you'll see a top rated badge on your page if you're top rated). If you are, request the GreatNonprofits #GivingTuesday Guide to amplify and share your good news.  If you're not yet top-rated, it's not too late.  Just collect 10 or more positive reviews by October 31, 2013 when the program ends.  Click here for steps to get top rated.  Also, be sure to user our guide (below) for tips. 
Get Our FREE Social Media & Marketing Kit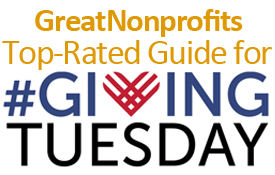 To best leverage Greatnonprofits and amplify your message, get the GreatNonprofits FREE Social Media & Marketing kit.  Inside, you'll find tips on how to set up and leverage our free platform, how to amplify and share your stories of impact using social media, public relations and more. Get the kit here:  http://www.slideshare.net/Greatnonprofits/greatnonprofits-giving-tuesday-social-media-toolkitfinal
 For more information on Giving Tuesday, visit
givingtuesday.org
.  You can also
register to view a complimentary webinar
featuring our founder, Perla Ni (or
click here
to read Perla's webinar slides on
slideshare
). Or watch this video.