New Text Message Review Feature Offers Nonprofits Instant Feedback
Ninety-eight percent of text messages are read and the majority are opened within three minutes of being sent, according to Techipedia.  In comparison 84% of Facebook news feed stories aren't viewed, 71% of tweets get ignored and 88% of emails go unopened.  To leverage the power of texting, GreatNonprofits created a new SMS, or "short message service", review feature.
The new GreatNonprofits' SMS review feature allows a nonprofit's clients and volunteers to provide feedback about programs on-demand, and instantaneously.  The text tool is provided free of charge by GreatNonprofits.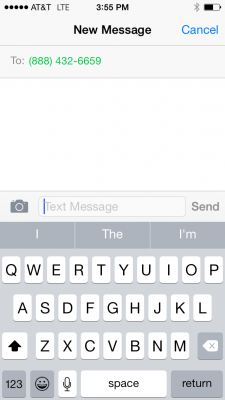 "It's about time that we provide technology that gives people a voice, in their preferred way of communicating," said Perla Ni, CEO of GreatNonprofits.  "Texting appeals to young people and low income populations in particular, offering them a quick and easy way to provide feedback about services in their community."
More and more industries are using texting to communicate with low income populations because it is cheap and doesn't require an Internet connection.  The healthcare industry introduced the  "Text4baby" initiative, a campaign that provides essential health information to pregnant women in high poverty areas.  Txt2stop sends motivational messages to help people quit smoking.
Documentary filmmakers also use SMS to create awareness around an issue.  'The Cove', a documentary film about the slaughter of dolphins in Japan, included a call to action in the closing credits.  Nine percent of moviegoers immediately responded by texting in a code to join a mobile subscriber list and receive updates about the cause.
"No longer do the people we serve have to wait for the annual survey to be able to voice their compliments or concerns," says Ni.  "Now with SMS reviews, the feedback is nearly instantaneous and can be done by a client served, right after they receive services, from wherever they are."
To send an SMS review through greatnonprofits.org simply start a new text message to (888) 432-6659.  In the message field, enter the 9-digit EIN of the nonprofit you are writing about.  You will then be prompted to provide feedback by answering three short questions.
Contact
Brittany Freitas, brittany@greatnonprofits.org