How to Celebrate US Indigenous People's Day
By Becca Stewart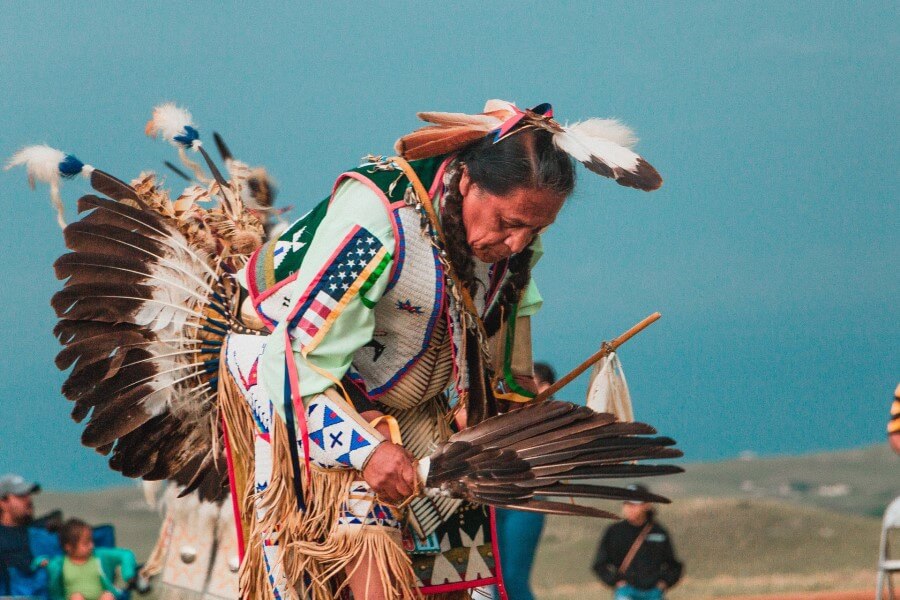 Look at your calendar and find the second Monday of October. You'll likely see the words "Columbus Day" written there, a national holiday made official in 1937 by President Franklin D. Roosevelt. Though it wasn't an official holiday until the 20th century, European settlers began celebrating Christopher Columbus's "discovery" of the New World as early as 1792, the 300th anniversary of his journey.
Since nearly the holiday's inception, people indigenous to the United States have protested the holiday. For many, Columbus and his journey do not represent prosperity, but a forced and violent takeover of land already inhabited for centuries. In the years that followed Columbus's expedition, millions of Native people died. Those who survived were forced to assimilate, give up their rich culture, and relocate to desolate lands.
It's understandable, then, that many have called for Columbus Day to cease being a holiday. Instead, many cities and states now recognize "Indigenous People's Day." This holiday shifts the focus to education about Native populations, support for Native people, and advocacy to protect their rights. Indigenous People's Day is celebrated on the same day as Columbus Day, though it is still not a federal holiday.
Indigenous People's Day is currently a recognized holiday in Alaska, Arizona, Iowa, Louisiana, Maine, Minnesota, Nevada, New Mexico, Oregon, South Dakota, Vermont, Virginia, and Wisconsin. Not all states have replaced the original holiday, and it's not a paid holiday in most states.
As we recognize Indigenous People's Day on the second Monday of October, we are highlighting some nonprofit organizations that support Native peoples. Please consider donating your time or resources to these organizations. You can find other nonprofits on our website, GreatNonprofits.org.
McKinleyville, CA
Led by indigenous peoples, the Seventh Generation Fund is a Top-Rated nonprofit. This organization offers national programs dedicated to supporting Indigenous peoples and the sovereignty of Native nations. Through education, advocacy, training, and financial assistance, the Seventh Generation Fund is helping to preserve the past and protect the future for Native peoples. 
The organization's support helps grassroots organizations across the country impact their local communities. From language lessons to art and culture courses and political activism, Seventh Generation is paving a new path forward for Indigenous peoples.
"SGF has enabled us to bring issues to the forefront, hold events and participate in events to educate our Indian and non-Indian community members about Indigenous issues and concerns, bringing understanding to all. SGF is especially concerned with Indigenous youth empowerment, assisting my daughter and other youth from Oklahoma to experience significant cultural and educational events and training."

-JK Dowell, Board Member
Albuquerque, NM
The AIGC is the nation's largest provider of scholarships for American Indian and Alaskan Natives. Each year, the organization awards $15 million in scholarships to helps Native peoples attend undergraduate, graduate, and professional degrees. More than 1600 Native students receive scholarships each year, helping close an economic gap and empower the next generation of Indigenous people.
"AIGC is an amazing organization that succeeds in their goal of supporting Native Americans in obtaining a higher education. I am a Yupik from Mountain Village, Alaska, and grew up living a financially impoverished, rural lifestyle without the same educational opportunities as most Americans. I graduated high school after four years at a boarding school over 1000 miles away from my home and family and was awarded the Gates Millennium Scholarship through AIGC. They have made the most beneficial difference in my life by providing financial and social support throughout the entirety of my undergraduate studies. I would not have been able to afford the education that I acquired thus far and am pursuing without the support of AIGC."

-kj99632, Client Served
Bozeman, MT
Poverty and homeless run rampant in many Native communities. Red Feather Development Group serves the Hopi and Navajo nations, providing home construction and repair help for those in need. The organization believes that everyone deserves a healthy, safe home. That's why it partners with local agencies to provide accessibility ramps, firewood, heating systems, home inspections, and general home repairs to the underserved Native populations.
Each year, Red Feather provides desperately-needed home repair services for hundreds of Indigenous peoples, both on reservations and in the surrounding areas. This nonprofit also offers education for homeowners to help them maintain their homes and stay safe throughout the year.
"As someone who has lived in and around some of the communities and areas in the southwestern United States where Red Feather is currently conducting outreach and community service, I have been very grateful to have been made aware of their existence.

Lack of adequate or safe housing and shelter is something that nobody in the Southwest should have to worry about. This is a nonprofit that is working directly to address this issue within some of the more vulnerable communities around the area in Northern Arizona, where I currently live.

Red Feather is a hands-on organization that is actually making a difference for the inhabitants of the Southwestern US who truly deserve to have a healthy home in this beautiful area. Please consider getting involved or donating to them."

-cjhamblen, General Member of the Public
Alexandria, VA
The American Indian Youth Running Strong organization starts by addressing the immediate needs of its clients: food, water, shelter. Once these needs are met, the organization then supports Native communities by connecting individuals with support services to help them thrive.
This nonprofit offers its own programs in education, healthcare, culture, and more. But it also supports local efforts in Native communities that align with the organization's mission. Through partnership with other agencies, American Indian Youth Running Strong is helping children, teens, and adults overcome generations of oppression and poverty and build a future founded on dignity, pride, and optimism. 
"I have followed Running Strong for American Indian Youth for some time now and have donated to this much worthy cause. Running Strong helps empower today's American Indian youths, teaching honor, respect, self-sufficiency, and a great many other things to those who need it most. Running Strong gives so much to those who need it most, often and especially in times of dire need. They bring the plight of the Native American youth to light, and through diligent work, dedication, determination, and donations seek to improve the lives of impoverished native American youth."

-Daddy Shadow, General Member of the Public
If you would like to support organizations serving Native peoples during Indigenous People's Day, please visit our website.