Random Acts of Flowers
Written by Kathryn Maclaury
First you notice the faint scent of roses and the gentle hum of voices. Small knots of people, grouped around tubs of flowers, are gently pulling off dead leaves and plucking brown petals. These blooms, rescued from the compost bins at local stores, like Costco and Trader Joe's, are about to be transformed into breathtaking floral arrangements.
The happy beneficiaries will be local hospital and hospice patients and seniors.
Since opening in April 2015, volunteers from Random Acts of Flowers (RAF), have recycled more than 125,000 vases and delivered nearly 110, 000 arrangements nationwide. RAF has locations in several states including California, Tennessee, Florida and Illinois.
Volunteers include mothers and daughters, groups of high-tech workers from nearby companies, and individuals looking for a meaningful way to spend a few free hours.
The work is varied: some volunteers pick up flowers from merchants, others prep the donated flowers, and some create the floral arrangements. Volunteers also handle tasks like washing vases and sweeping floors.
A little money goes a long way.
RAF estimates that the cost of creating and delivering a bouquet is just $15. Professional florists estimate the value of the bouquets range from $55 to $85, depending on size.
But the joy these flowers bring is priceless.
Random Acts of Flowers "…inspires kindness, happiness and healing in our communities one recycled bouquet at a time." A thankful nurse said:

And the volunteers?
Random Acts of Flowers is a great place to meet like-minded people. Volunteering opens the door to new friendships and the opportunity to create beauty out of discards.
"It feels good to see a smile…but it feels even better knowing you didn't just leave flowers, you left hope and provided a little piece of mind that no one is ever alone."
– Cecil S., RAF volunteer
"I never go there without a smile. Volunteering with RAF keeps my hands in dirt and flowers, my mind up to speed with other sharp friends so I go to RAF with a smile, I give my smile away and hang on to smiles from others and then we get to pack the smiles up and pass them on to others. GO RAF!!!"
– Betty K., RAF volunteer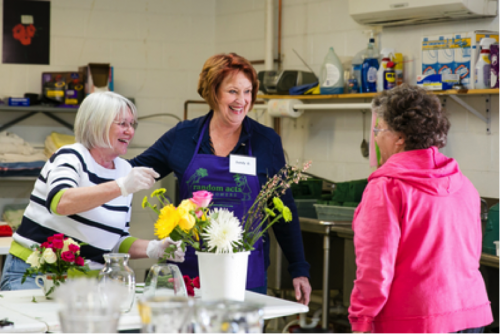 Want to help but can't volunteer?
You can support RAF's mission in other ways:
• Set up or staff an RAF fundraising event
• Put together invitations and mailings
• Sponsor a vase drive at your office, church, kids' school, anywhere!
• If you shop online, select Random Acts of Flowers as your charity of choice on Amazon Smile or Goodshop
• If you purchase a DIY flower kit for a wedding or special event from Itsbyu, a portion of your sale is donated to RAF
Keep Random Acts of Flowers in mind throughout the year. RAF works with local growers and large home improvement stores year round to deliver to local hospitals, rehab centers, and senior residences.