The Power of Donor Stories
Many of us have been inspired to give after hearing about a colleague, friend, or family member's transformative experience giving to a cause. A donor sharing their giving experience has a powerful emotional impact on a 1-on-1 level, which can be multiplied through stories shared through social media or on other platforms.   
Research (learn more in our blog post) in brain science by Uri Hasson at Princeton University provided evidence about why stories are such effective transmitters of feelings and ideas. The brain actually lights up in the same areas of the listener and the storyteller. Listeners to a story experience the same thoughts and emotions as the brain of the person telling the story.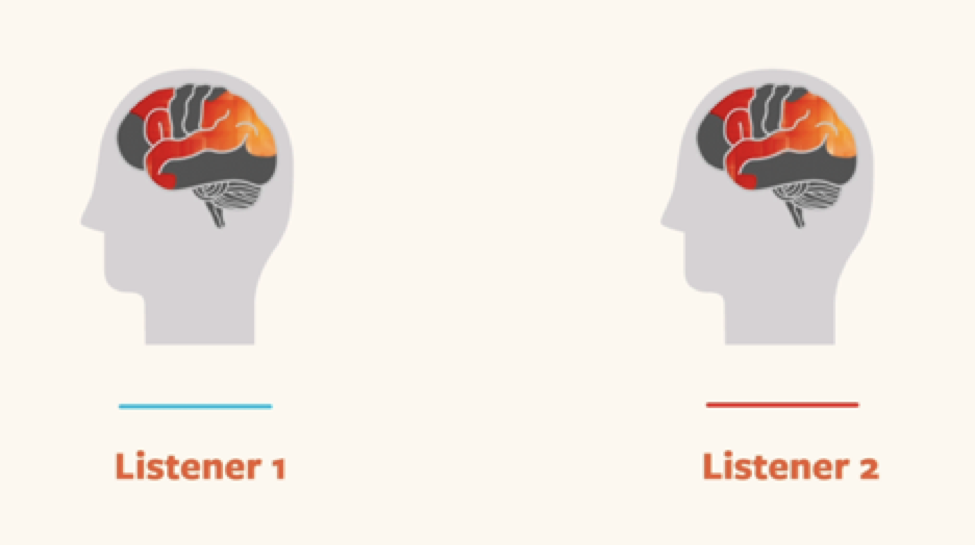 This prompted our question: Can we show that donor stories actually lead to other donors getting motivated and inspired to give, in a way that can be measured?
There's a lack of data-driven research measuring how donors telling their stories impact giving, what types of stories most motivate donors, and the best way for donors to tell their stories. With support from the Gates Foundation, we tested the impact of donors' stories in video format on users of the GreatNonprofits website.
Testing the Effect of Donor Stories
We started testing by using video donor stories because we wanted to start with the strongest possible effect of stories. Researchers have found that images and video make stories far more likely to be read, remembered, believed, and acted upon. Scientists call this the pictorial superiority effect. Because the visual cortex is the largest system in the human brain, our visual sense is our strongest and images evoke emotion far more quickly and effectively than words alone can.
Our broad hypothesis was that adding video stories to the GreatNonprofits website would increase engagement and donations from our visitors.
So we focused on video donor stories because we believed they would have the greatest impact on visitor engagement.  We found donors through partnerships with giving networks such as Denver African American Philanthropists, LatinasGive, Full Circle Fund, and Social Venture Partners.  
We were also interested in how specific types of videos (short form vs. long form, local nonprofits vs. national nonprofits) would impact giving on our platform. We created a variety of different stories—short form, long form, etc. Here's an example of one of our short-form videos:
You can see more of the videos we produced here.
We focused our testing in three areas:
Testing the impact of donor videos vs. no videos vs. other story formats (photos, blog posts)

Testing different content for donor videos (local nonprofits vs. national nonprofits)

Testing different donor video formats (short form vs. long form)
All our tests were designed to measure site-wide engagement for new and current GreatNonprofits users coming to the site. When measuring engagement, we tracked all the actions our users took on our site and separated them into three buckets:
Browsing (looking at nonprofit profiles, reading reviews, etc.)

Action (writing a review, signing up for nonprofit volunteer opportunities, subscribing to our newsletter)

Donation (any action associated with donating to a nonprofit)
When structuring our tests, we were particularly interested in the specific impact on donation actions from our different formats.
Results: Donor Stories Decreased Bounce Rates and Increased Donation Actions 
For the first set of tests, we added our donor videos to high-traffic landing pages (we used our city pages) and compared against the original design with no stories, as well as photo stories linking to blog posts. If you checked out the city page, you'll notice it has video now, which may give you a hint as to our results:
There wasn't a substantial variation between no stories and photo stories, which validates video as the most impactful medium for donor stories:
Video produced a substantial (as high as 50%) decrease in bounce rate (

the number of users who come to a landing page and leave without taking another action)

Video produced a notable (38%) increase in the number of donation actions taken by users

These results were consistent across different videos and landing pages
For the second set of tests, we compared videos on city pages that showed regional nonprofits vs. nonprofits from other regions, like national organizations. There wasn't a substantial difference in engagement or donations between the different content of donor stories—which suggests the emotional impact of the giving story is more important than a specific cause or organization.
For the third set of tests, we used the same landing pages to test different formats of donor videos:
We tested donor stories that focused on the donor's personal experience vs. their impact on the nonprofit and didn't see consistent variations in performance across these content types 

We tested short-form, "upworthy"-style donor videos with text overlays (designed for sound-off or mobile experience) against longer-form videos. Short-form videos increased bounce rate (by 25%), but also drove substantially more user engagement (1.5x) when compared to longer-form videos

Short-form videos drove substantially (101%) more donation actions than other video types
What's Next
While the general inclusion of video produced positive results, the most impactful videos were short-form, snappy videos designed to match common formats that users experience on other social networking websites. These videos are designed to bring the emotional impact of a donor's giving to the viewer as quickly and simply as possible.
We were particularly excited about these results because these videos are also the most simple to produce —they can be short (30 seconds) and can use text overlays instead of recorded voice-overs.
We'll next be testing the potentially milder effects of donor storytelling—such as text stories of donors. While the effect of text stories is less, because they are easier to collect, they may be a great choice for nonprofits.
We're also working on a toolkit of best practices to share with any organization that wants to use video on their own website or social channels to help drive more donations.
As nonprofits seek to reach donors and volunteers and create a meaningful connection that inspires and engages, video donor stories can be a powerful tool to share rich and compelling stories.