Tips for Using Quotes and Reviews in Your Content Strategy

In a recent blog post  7 Tips for Using Quotes for Your Nonprofit's Content Strategy, Beth Kanter provides compelling reasons and extremely helpful tips for using  quotes as an integral element in your strategy.
As the author states, "Audiences love inspirational, relevant, and timely quotes, especially if created in graphic, visual format."
Why not expand that idea a bit and include reviews as well? Here's a recap of the seven tips for using quotes; you can apply them to reviews as well.
1.) Integrate Quotes and Reviews Into Your Editorial Process
As you put together your monthly editorial calendar, planning and penciling in the content for each channel, why not add a column for quotes and reviews?
If you have an overall theme for the month, research and capture any quotes and reviews related to that topic and add them to the calendar. You can use them in a blog post, newsletter, on Facebook: anywhere you reach your constituents. Do you use Pinterest? Why not use it to showcase your positive quotes and reviews?
Here's an example from Project Aware Foundation, a growing movement of scuba divers protecting the ocean planet – one dive at a time.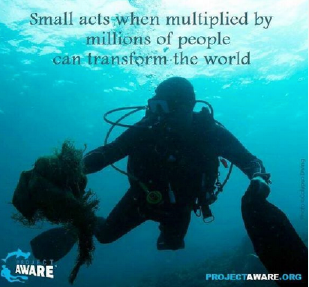 Just Give, a nonprofit in San Francisco, uses a review they received on Greatnonprofits.org effectively on their Facebook page:
Upload/Insert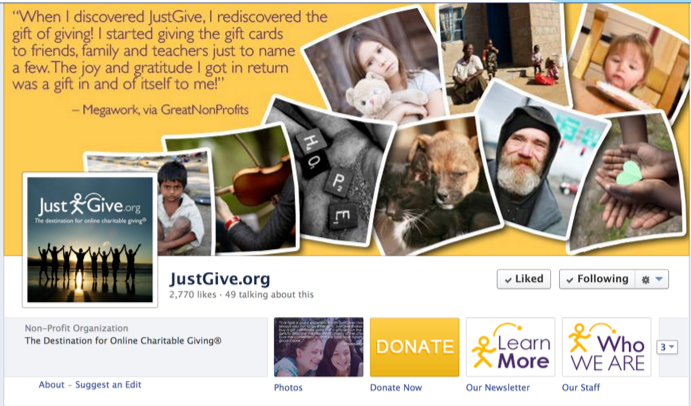 2.) Pick Quotes and Reviews that Resonate with Your Audience
Make sure the quote or review you plan to use is compelling and relevant to the topic at hand.  For example, if you are trying to recruit new volunteers to your organization, then leverage quotes and reviews from volunteers who support your organization enthusiastically and feel valued and supported in the work they do for you.
Examples
Use a Quote from a Volunteer

The Starlight Foundation Midwest in Chicago, a top-rated nonprofit by GreatNonprofits in 2013, helps seriously ill children and their families cope with their pain, fear, and isolation through entertainment, education, and family activities.
"Starlight Midwest truly sets the bar for making charity work about the people they serve. As a volunteer for Starlight, I have felt that the families truly come first, and that my time is valued and spent wisely."
Spotlight a Volunteer
You can also use social media to highlight the contributions of your volunteers. Give Kids the World, an organization located in Kissimmee, Florida that strives to fulfill the wishes of all kids with a life-threatening illness, posts a "volunteer spotlight" on Facebook each week to showcase a special volunteer.  Give Kids the World finds highlights for these posts from reviews about their volunteers on GreatNonprofits.
3.) Use Quotes and Reviews that are Timely
If your organization has a tie to a breaking news story or event, find a quote or review and use it to reinforce your organization's involvement in the issue.
If you work for an environmental organization, why not highlight a quote from an enthusiastic constituent in honor of Earth Day or World Ocean Day?  For example, this quote from a student who participated at an event at The Nature Generation in Arlington, VA could be used, "I am a 6th grade student who went to the water testing event on the Chapman DeMary Trail. I learned a lot about how we can tell if the creek water is clean and why it is important for everyone to help."
You can also share the details about any awards or honors your organization receives. Click here to see a tagboard that showcases organizations that have been top rated by GreatNonprofits in 2014.
4.) Actively Curate Quotes and Reviews
Make gathering quotes and reviews an ongoing process. Don't wait until you need a great quote or empathic review. Start collecting and organizing quotes so have the perfect, insightful quote or review on hand.
Here are some thoughtful quotes from volunteers and clients of their favorite organizations listed on GreatNonprofits:
"Bread & Roses provides what Huey Lewis calls a "twofer." The people it serves are moved and healed by the performers. But it works both ways, because the performers get a boost from the kind of audiences they rarely play for."
"Last year an angel fell out of the sky and landed on my shoulder, it was Dream Big!."
"I'm 14 and my passion is to be a marine biologist!!!! i love you guys so so so much!!!!! I have a fundraising page for the Marine Mammal Center!!!!"
 5.) Keep a Running List of Quotes and Reviews by Topic or Audience
Organize quotes and reviews by topic or keyword.  You can find the perfect quote more easily.  Also, you can use Google to search for new quotes and reviews, by entering your keyword and the word "quote" as your search terms. Add these new quotes to your existing lists of quotes that you have organized by topic or keyword.
You can also use GreatNonprofits to filter reviews by audience. See the screen shot "Filter by reviewer role," and if you are a nonprofit, simply click on your nonprofit profile to get reviews by role.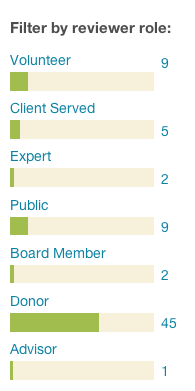 6.) Use Quote Finder Sites
Beth Kanter suggests looking at the list of sites on this list, created by Robin Good. Her favorite is Quoteland.  You can also check out Yelp or GreatNonprofits for reviews about your organization.
7.) Make Them Visual
Add pop to a quote or review by adding an image or other visual treatment.
Kanter provides a link to a list of five tools to enliven your quotes or reviews.  Also take a look at Canva or Usechisel (used to create the image below).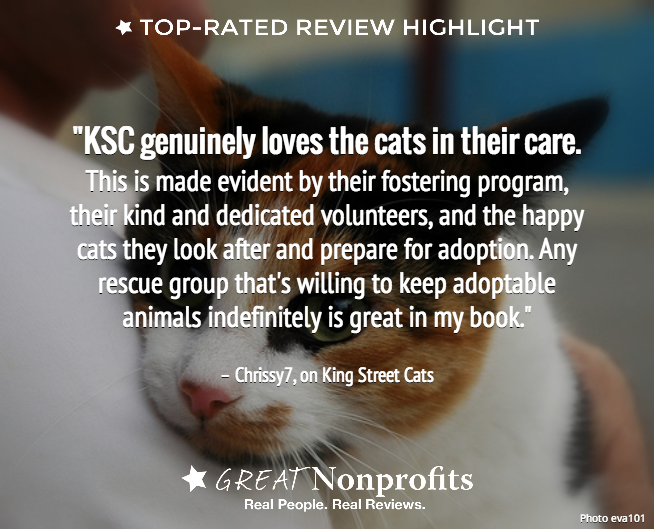 ---
Help us share tips!
When you showcase a review on any social media site, please use this hashtag: #GreatNPreviews.