6 Nonprofits Helping the Visually Impaired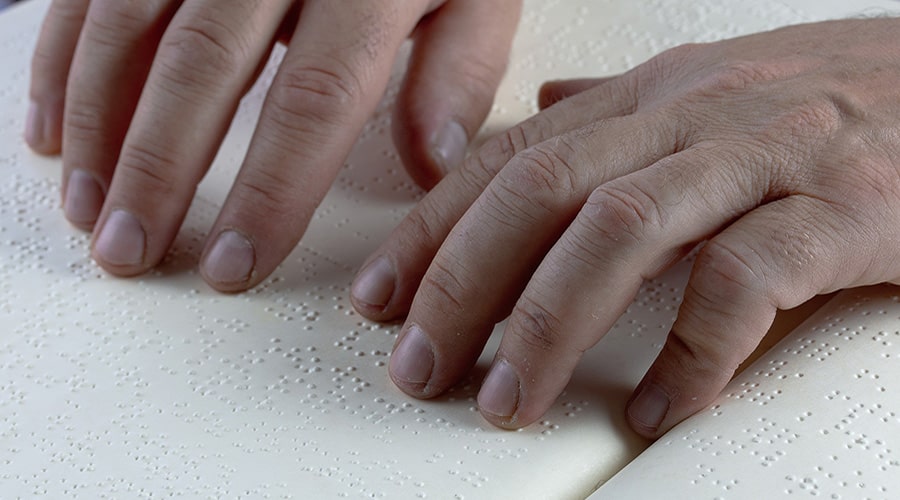 More than 2.2 billion people worldwide visually impaired or blind. There are varying degrees of blindness, however, and only about 10–15% of the blind population are unable to see anything at all. But any impact on vision for a person means that their routine is altered in some way. These people rely on a variety of services for assistance for themselves and their families so life can be as close to normal as possible.
Six great nonprofits that provide different services to those who are blind or visually impaired are highlighted below:
Palmetto, FL
Southeastern Guide Dogs helps create and nurture partnerships between working dogs and people who need a little extra assistance. They breed, raise, and train elite working dogs. Their team works to match the animals with the right person to help make some of their daily life easier and safer. Since they opened their doors in 1982, they have matched more than 3,000 dogs with people. They are able to provide this service at no cost to people with vision loss thanks to the donations that they receive. They offer the ability right on their website to "adopt a puppy" and help them continue to serve people in need.
Here's a recent review from one of the people who got matched with a dog:
I lost my vision about 1.5 years ago and during my O&M training it was suggested that I would benefit from a guide dog. I had looked at multiple schools and from the first phone call Southeastern Guide Dogs was a cut above the rest. From initial application through to completion of my training on campus, I really did not have one complaint. The dog I was paired with is beyond amazing. She is brilliant! My first full day home we went for a walk at Universal CityWalk and it was amazing. I got to enjoy the afternoon without looking down or being stressed about who (or what) I was going to bump into. Today is my first day back at work with my guide dog and the morning has been beyond expectations. No more running my fingers along the wall or counting steps. Thankful for the ongoing support I have through Southeastern Guide Dogs as well. They are never more than a phone call away. The words thank you just aren't enough.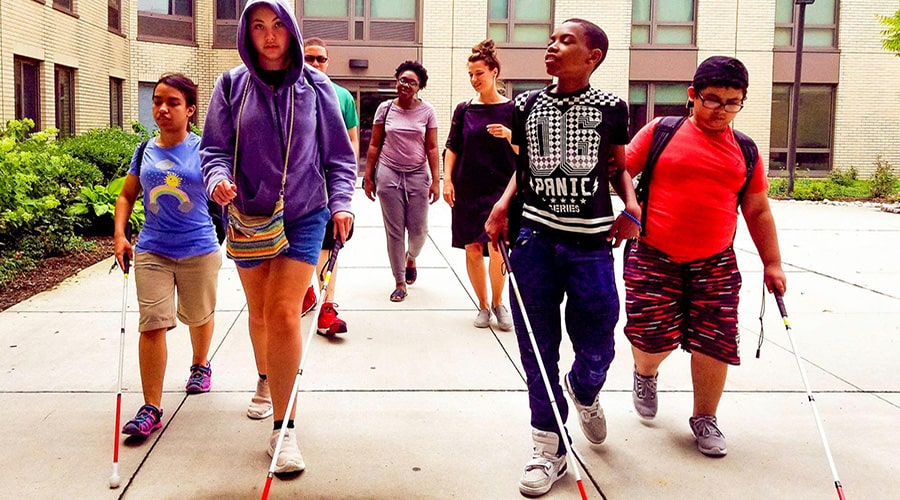 New York, NY
VISIONS is about to celebrate its 100th anniversary. They have been provided different services to the visually impaired in the New York City area for almost a century. Offerings vary for different age groups, but their biggest focus is to work with people suffering from vision loss to continue to be active at home and in their community. The staff provides training for people to learn to adapt in their own homes. Another big area of help is their job placement program offered for youths and adults to continue to be independent. Volunteers also teach all kinds of different classes in fitness, art, and technology for everyone.
Here is one of the many shining reviews from a volunteer teacher:
I started volunteering in 2012 at Visions teaching Zumba Gold. I had never taught the blind/vision impaired and have learned along the way what works well in terms of describing the movements to the class who are seated in chairs. I am always amazed at how few times I have had to physically help someone to get a movement correct. This volunteering led to a part-time teaching position — teaching Zumba Gold once a week. I am so glad that Director Ann DeShazo contacted me from my Zumba website, which led to such a great opportunity to teach with a very appreciative group of students. In addition to the weekly class, I also have participated in several Senior Fitness Days teaching Zumba Gold. I also volunteer once a month at Visions with Cherub Improv, leading an improv comedy workshop, and have helped to book the choir Happy Hour Harmonies to perform at the Coffee House event. I always look to recommend other volunteers to Visions and try to think of other programs that might work well at Visions. Thanks to the entire staff who has made me feel welcome and is always helpful: Chris Thompson, Liz Lee, Natasha DeLeon, Carrie Lewey, Teresa Rivero, Tony Wu — what a great crew!
Miami, FL
Miami Lighthouse helps more than 15,000 children and adults who are blind or visually impaired each year in Miami-Dade County. They provide education services, music programs, senior services, and so much more. The Heiken Children's Vision Program they manage helps provide eye exams and glasses to low-income children throughout Florida. They have really found as many ways to help this community as they can and have remained one of the top-rated nonprofits in the country.
Take this example from one of their clients:
Diagnosed with wet macular degeneration, I originally came to Miami Lighthouse two years ago to the Low Vision Center, but my eyes were not bad enough for me to take any classes. I came back in June, had a low vision examination, a visit from the Florida Division of Blind Services at my home, was referred to Miami Lighthouse, and was accepted as a client. From that moment on, my life has changed.

I was one of those people who used my eyes my entire life to make my living, which I couldn't do anymore. But the Miami Lighthouse has taught me that there is nothing that I can't do, that my cup is always half full, never half empty, and that I have to be thankful for what I have and I don't have. I started in Independent Living and have just been approved to transfer to Vocational Rehabilitation with the goal of returning to work. I also received Orientation and Mobility training.

I cannot tell people how passionate I am about Miami Lighthouse for the Blind and Visually Impaired and about everyone in this facility. Everyone is caring, knowledgeable, and knowing. I enjoyed coming here on Tuesdays and Thursdays for my classes. It was a life-changing experience. At present I am a volunteer in the Independent Living Program, and I am looking forward to entering the Vocational Rehabilitation Program in the near future.
Denver, CO
The Anchor Center provides early intervention services and education for children who are blind or visually impaired and their families. The children they serve are infants, toddlers, and preschool ages. With an incredibly gifted staff of teachers and therapists, they are able to provide specialized care for the children and their families. The kids learn to use all of their senses to learn about and successfully (and safely) navigate their world. By focusing on children before they reach kindergarten, they are able to set them up for success when they reach school.
Read this recent comment from an Anchor Center family:
Our 5-year-old granddaughter spent three years at Anchor Center and is now in kindergarten and is excelling. The staff at Anchor Center assesses each child's needs on an ongoing basis and are in constant contact with parents to achieve optimum success for the students. Our little gal has had a myriad of health concerns with visual impairment being just one challenge. But, in great part due to her time at this wonderful school, she is confident, independent, vivacious, and definitely out to leave her mark on this world. We cannot thank Anchor Center enough for being an integral part of her success now and going forward.
Henderson, NV
Nevada Blind Children's Foundation is another amazing nonprofit that works with children who are blind or visually impaired. They work with school-aged children to provide after-school tutoring and technology assistance. After-school programs are also offered Monday to Friday, including music, life skills, robotics/STEM, 4-H, dance, and other recreational activities. There is a braille resource library where families may borrow books as well as adapted puzzles and games to use at home.
Here is a recent review from a family:
The Nevada Blind Children's Foundation has quite honestly, been an answer to our prayers. About seven years ago, I heard of this nonprofit organization that offers activities for the visually impaired children of Nevada & I decided to enroll my then 3-year-old visually impaired daughter into their summer camp program. From that very first day with the NBCF, we (my VI daughter, my son, and even myself) were made to feel like a part of their little family. The devoted, caring, fun, and supportive staff is the most incredible group that I've ever met. They offer so much more than just a few activities for the kids. They offer them independence, confidence within themselves, a second family (home away from home), and other kids to connect with who are just like them. The NBCF offers the blind children of Nevada a place to belong. Thank you NBCF for all that you do!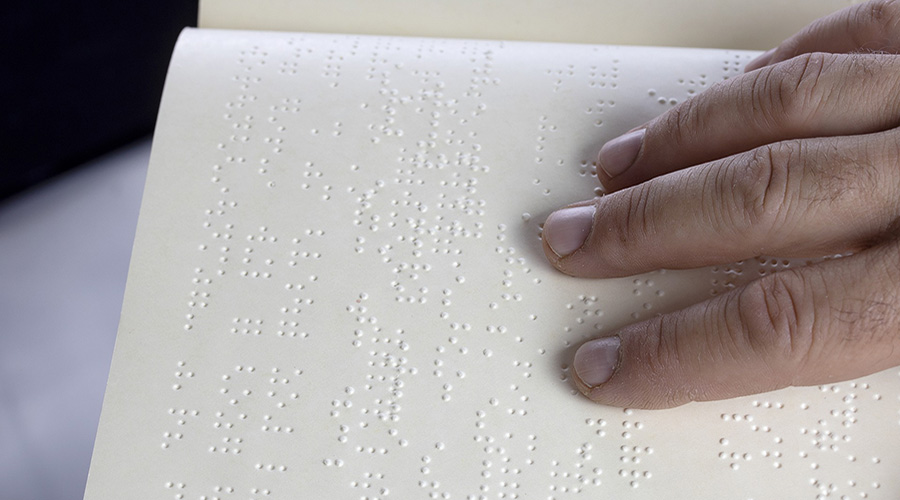 New York, NY
The Jewish Braille Institute provides individuals who are blind, visually impaired, or reading disabled with books, magazines, and other publications in different formats like audio, large print, and braille. Their cornerstone is Jewish education material, but their catalog and reach go far beyond that. This incredible organization keeps people connected to materials that enrich their lives.
Here is a recent review from a volunteer with a special connection:
After my father had a stroke he was both visually impaired and unable to attend services at his synagogue. JBI provided, at no charge, excellent recordings of both Sabbath and High Holiday services as well as the Passover Seder. I have contributed to them ever since and am now a volunteer as well. They are a wonderful organization — the recording operation is well run, the staff and other volunteers are great, and I feel that my time is used wisely (no "make work" as is the case with other organizations). I look forward to going to the recording studio every week and am glad to have the opportunity to work with them.
These organizations and all the others that assist those who can't see make a huge difference in the day-to-day lives of thousands of people. A special thank you to the donors, volunteers, and hardworking people who make these things possible.