Where to Volunteer and Make a Difference with Literacy
While many of us take being able to read and write for granted, that isn't true for everyone. Literacy is essential to individual and community well-being as well as economic development. Having the ability to read and write leads to better educational and employment opportunities.
Maybe you already understand this, and you want to help those who need it. We have good news for you because there are several organizations out there helping with literacy for those who need it most. We want to showcase some of the best organizations working toward literacy for all, so you know where to start.
Boston, MA
Hands Across the Sea, Inc. is located in Boston, Massachusetts, and helps more than 25,000 students in 100 schools every single year. This nonprofit's mission is a dedication to raising literacy levels in Caribbean children by assisting libraries and schools in the Eastern Caribbean.
You don't have to take our word for it. Kristy Alexander, a Principal at Woodford Hill Primary School, said, "A simple 'thanks' to Hands Across the Sea does not seem enough. Your work in facilitating this scheme is unrivaled. Your desire to see the realization of a literate world cannot be questioned. We are indeed grateful for your partnership with us."
Hands Across the Sea has shipped hundreds of thousands of books to libraries and schools in St. Lucia, Antigua, St. Kitts and Nevis, Dominica, and other locations. This has provided access to quality, age-appropriate reading material for countless kids.
Santa Monica, CA
Another United States-based nonprofit helping with literacy in other countries is the Cambodian Children's Fund. The organization is based in Santa Monica, California, and is working to transform Cambodian youth into the leaders of tomorrow. The group offers long-term investments in children to learn the confidence and skills to be spokespeople in the future.
This group has supported thousands of children with a poverty reduction model. Many of them have gone on to receive undergraduate degrees or vocational training. Literacy is only one of the issues the organization helps with. It also provides career and life skills, healthcare, childcare, and community outreach to benefit everyone in the country.
Amy Lynn B., a volunteer, said, "The students were always appreciative and were very enthusiastic to learn despite their difficult home life situations. The teachers were accommodating and welcomed the support. On my last day, the students really outdid themselves to make and give me so many lovely cards."
Moraga, CA
Be the Star You Are, Inc. is in Moraga, California, and uses their skills to help children in the United States with literacy and more. The organization works to help build self-esteem through literacy while also teaching life and conflict management skills. With four in ten fourth-graders not having sufficient reading skills, this is more important than ever.
SteveGarland, a donor, said, "A wonderful charity led by a fantastic, giving, loving person. Thanks for being the Star YOU are, Cynthia! You and your family have helped so many people, keep up the great, inspiring work!"
This group offers global outreach in areas of need. They offer help to those in need of increased literacy and ship books out to areas that have experienced disasters. This nonprofit has dozens of programs and is always looking for volunteers to help with them.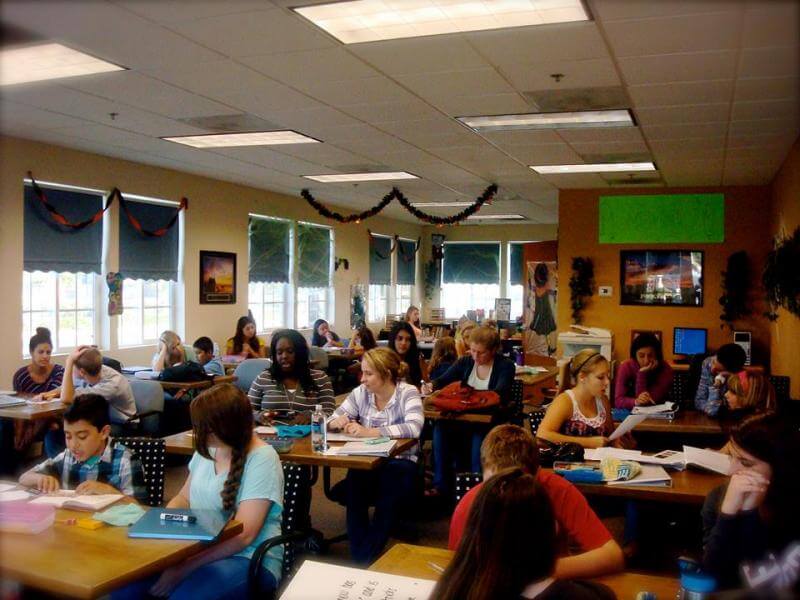 Santee, CA
Another nonprofit in California, Momentum Tutoring, is also doing excellent work with literacy. They work with individuals in Santee, El Cajon, Santee, La Mesa, Poway, and several other cities and towns. Their most popular programs include private tutoring homework clinics and Tutoring Pay What You Can Scholarships. The mission is to provide all students with what they need to be successful.
One of the clients, Dyandy, said, "My grandson was really struggling in math. I called Momentum and talked to Terri. After talking to her we felt it would be a good fit for him. Now he gets A's in math, but also gets A's and B's in all his subjects. Not only does he get good grades, but his self-confidence is out the window."
This organization serves students in elementary schools, junior high schools, and high schools in Santee and beyond. The group has already managed to boost student self-esteem, improve academic performance, and reduce household stress since its creation in 2007.
These are just a handful of the best organizations out there providing literacy services. They, and many organizations just like them, are always looking for volunteers to do more and help a more significant number of people. Take a look at these nonprofits or find one in your area and you can be a part of changing the lives of people around you.