World Autism Awareness Day
April 2, as it has done every year since its adoption by the United Nations 10 years ago, commemorated World Autism Awareness Day. And the stakes for raising public awareness have never been higher. According to the Autism Society:
About 1 percent of the world population has autism spectrum disorder.
More than 3.5 million Americans live with an autism spectrum disorder.
Prevalence in the United States is estimated at 1 in 68 births.
Prevalence of autism in U.S. children increased by 119.4 percent from 2000 (1 in 150) to 2010 (1 in 68).
Below are just a few of the nonprofits striving to assist those affected by autism:
Tampa, Fla.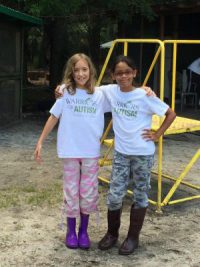 Warriors for Autism enlightens, enriches, and empowers the lives of families on the autism spectrum through its efforts to provide inclusive programs and services to the community. These include an inclusive summer camp program on a horse farm for children with ASD and their siblings ages 6–16; mini-camps during off-school breaks; sensory/allergy-friendly holiday events for families throughout the year; and an adaptive martial arts program for children aged 5+ to work on balance, speed/agility, hand/eye coordination, and basic martial arts
"My 11-year-old son attended for the first time this year. We just moved in the area and was concerned about so much transition. However, he found comfort and excitement going to this camp every day. His verbal skills are limited and was asking to go back! He has never done that before. Deena and staff are incredible with the children. It was like dropping them off with a family member that understands and loves your child. He can't wait to go back next summer."
Arlington, Va.

Created in December 2001, the Organization for Autism Research is the product of the shared vision and unique life experiences of its seven founders. Led by these parents and grandparents of children and adults on the autism spectrum, OAR sets out to use applied science to answer questions that parents, families, individuals with autism, teachers, and caregivers confront daily.
"OAR is a phenomenal organization, one that focuses on autism research that will prove useful to individuals on the spectrum and their families in the real world. Thanks to OAR's generosity, I am currently conducting a study on outcomes for young adults with autism spectrum disorder (ASD) that will provide insights into what is happening in the community 'once the big yellow bus stops coming.' Beyond funding research that makes a difference, OAR reaches out to families and service providers, offering insightful materials that I, as a professor, have often shared with colleagues, students, and families. I especially recommend the 'Life Journey Through Autism' series!"
Irvine, Calif.
Talk About Curing Autism is dedicated to educating, empowering, and supporting families affected by autism. For families who have just received the autism diagnosis, TACA aims to speed up the cycle time from the autism diagnosis to effective treatments. TACA helps to strengthen the autism community by connecting families and the professionals who can help them, allowing them to share stories and information to help improve the quality of life for people with autism.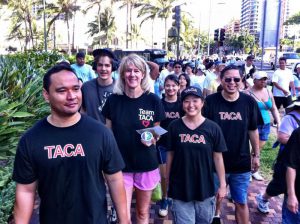 "When my son was diagnosed with autism in 2000 I was mired in grief when the answers for my son's pain were elusive to the medical community. Then I heard about a small group of parents meeting nearby who were helping each other to find the answers for their children. That group was eventually called Talk About Curing Autism. The first thing I learned from this group was that hope is real and that our kids can get better. It was the salve of healing I needed to go find answers for him. A little over two years later my son was declared recovered from autism by his pediatrician.
 "Today he is a junior in high school, on the high honor roll, plays in the band, and is on the cross country team. Oh, and we just signed him up for SAT and ACT tests because he is going to college! None of this would have been possible if not for TACA's support. This is why I am still involved as a chapter coordinator and volunteer. The gift of a future for my son is something I will always be grateful for, and seeing other families achieve the same for their child is what it is all about."
To learn more about these and other nonprofits working to improve the lives of those on the autism spectrum as well as their families, check out GreatNonprofits.